Story:
Welcome to Cosmo Land, a continent of 4 military factions fighting for supremacy. Each faction is symbolic of an existing world power like: Orange Star (USA), Blue Moon (Russia/USSR), Yellow Comet (Japan) and Green Earth (a mix of Western Europe, but mostly France/England). At the start of the game Blue Moon has invaded Orange Star, for reasons unknown. It's up to Andy (a new Commanding Officer) and a new military advisor (You) to thwart Blue Moon's advancement and discover why all the factions are at war with one another.
The premise is cliche and other games have done it better. The buildup is slow and ultimately anti-climactic. Even without playing the sequels, the plot twists are blatantly obvious. There is a little bit of character development between all the CO's, but not enough to be considered meaningful.
Overall, the story is lackluster and feels like it was shoehorned in to give the gameplay a purpose. The characters are mostly one dimensional, though they really develop in the subsequent games.
Score: 5/10
Graphics:
The cartoony nature of the characters and environment really offsets the more mature nature of the game. The game never takes itself too seriously, but the premise of world war and prejudice really take a backseat to the mostly upbeat and vibrant design.
The unit sprites are colorful and detailed. The animations are mostly fluid, though the battle animations come off a bit too static/stiff in how they move and attack.
The 2D talking head portraits work well.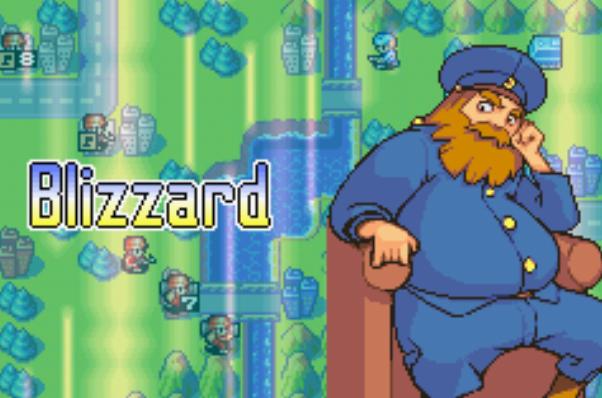 Overall, the visuals are nice and colorful.
Score: 8/10
Gameplay:
This is a modified take on the traditional grid-based SPRG formula. Players move individual military units around various environments while completing objectives like kill all units or capture enemy headquarters. The few key differences from most SRPGs are:
1. Units are creatable and expendable. There are no unique units. Most maps have a fixed amount of predeployed units, but the player is able to deploy more if they capture factories/airports/Harbors and the have enough funds, which are generated from capturing non-unit producing buildings.
2. There is no leveling system. Units don't gain exp, nor gain any meaningful promotions or upgrades. The game is set-up like a game of chess, where all the units are only as important as the victory they bring. The only way to really lose a mission is to lose all one's units or have their headquarters captured. On the flip side, players are awarded medals and rank increases if they do exceptionally well in battle by doing things like minimizing total turns used, minimizing player controlled units lost and maximizing CPU units destroyed.
3. Each unit has a distinct purpose. Tanks come in 2 sizes and each serves as the heavy-hitters in direct combat. Infantry are mainly used for scouting and capturing buildings, though mechs (infantry with bazookas) are actually quite good against armored units. Artillery and Rockets are vehicles focused on ranged attacks. There's also naval units like Battleships, Cruisers and Submarines, among others, that do similar things for naval battles and Aerial units like Bombers and Fighters for air battles. All in all, everything has a nice rock-paper-scissors relationship with one another. Tanks are good against other tanks and infantry, but they get overwhelmed by artillery. Aerial units are good against everything, but suffer at the hands of Cruisers, Fighters and anti-air tanks. Knowing what units to produce and anticipating the enemies' moves is very enjoyable and thought-provoking.
The units are all fairly well balanced, though Bombers clearly have the best advantage out of them all. Few units can really harm them and their attack power is practically OP. On the flip side, infantry could use a bit of a buff. Regular infantry are all but shoehorned into building capturing only. They have very little attack power and can be killed by everything auite easily.
Each CO (commanding officer) have small, but distinct advantages/disadvantages on the field. For example, Andy has no weaknesses and his CO Power restores HP to all his units. Max on the other hand has a nice boost to all direct combat units, but his ranged units suffer in firepower and attack range. Each unit adds to the complexity of battles, though not all units are created equal, in terms of balancing. Some characters like Sonya and Olaf have no weaknesses/strengths and really only differ in their CO power, which is also lackluster. Olaf causes a blizzard to happen for one turn, which causes the enemy units to suffer a movement penalty. Sonya causes her units to gain increased visibility for one turn in fog of war settings. Olaf's power could have some strategic advantages, if played right, but Sonya's power and abilities are so niche that playing as her outside of Fog of War settings is pointless.
Overall, the gameplay is really solid, the COs are mostly diverse and the maps are fairly original.
Score: 8/10
Sound:
The music is quite catchy and engaging. It's mostly a mix of rock, alternative, metal, funk and orchestral stuff. Each character has their own theme song that mostly captures who they are. Grit's theme is laid-back and bluesy, whereas Max's is heavier and full of bass riffs. The music for this series only gets better with each sibsequent title. By Days of Ruin (DS) the OST has reached God-tier in excellence.
There is no VA and the sound effects are good all around.
Score: 9/10
Replayability:
The game is all about the gameplay. The story is, for all intents and purposes, throwaway and boring. The potential for a good story was there, but the narrative never gets out of neutral.
There are numerous unlockables for those who enjoy the game. Unlockables include new COs for battles, new maps to play and new color schemes for the COs. The unlockable maps are the bread & butter of this game. The player is able to select their own CO and they can affect things like the CPU's difficulty level, fog of war, funding and more. These maps are quite enjoyable to playthrough, though most of them have been recycled into the subsequent titles, so there's little point to play these maps on this version of the game when the future titles make numerous improvements to the gameplay mechanics.
Score: 8/10
Final Score: 8/10