Title:
"Prinny 2: Dawn of the Great Pantsu War"
JP Release date: 25th March 2010
US Release: TBA
So we've seen that it will have new attacks which can be activated from the combo meter. And we've also seen that you can at least use Asagi in her Prinny form(not sure it's in the main story though). Also a new difficulty level called "Baby mode" is added.The name pretty much tells the difficulty. And yes the story is about getting Etna's stolen underwear back. Also new "machines" like potato which makes the Prinny to fart and you can fly in the air and it also stuns your enemies(
), Dark Sun kind of machine, also weather conditions. Also a playable Prinny Laharl can be seen in one picture...
Prinny Asagi mode
is a hidden feature in Prinny 2 and it looks like it's less platformer and more Contra with a stamina bar. You can equip a variety of guns like flamethrowers, shotguns, and a gattling gun. Prinny Asagi has a special set of bosses to fight too – namely other versions of Asagi. 8bit Asagi from Makai Girl, a moe Asagi robot, and Asagi Scharwznature are some of the other incarnations of Asagi you'll meet.
Confirmed bosses: Laharl, Baal, Prinny Baal, Sir Sweet, Flonne and Demon Lord Priere.
Trailer:
http://www.youtube.com/watch?v=9r-U-92uU1I
Official Site:
http://prinny.jp/2/
Sources:
http://news.dengeki.com/elem/000/000/223/223679/
http://www.siliconera.com/2009/12/24/help-find-etnas-pantsu-in-prinny-2/
http://www.siliconera.com/2010/02/11/prinny-asagi-playable-in-prinny-2-dawn-of-the-great-pantsu-war/
http://news.dengeki.com/elem/000/000/235/235614/index-2.html
http://www.gpara.com/comingsoon/prinny2/100312/
First DLC:
http://www.siliconera.com/2010/04/16/prinny-2s-hellish-radish-is-the-cheapest-console-dlc-ever/
Second DLC(first actual level):
http://www.siliconera.com/2010/05/19/prinny-2-dlc-pits-prinny-against-pram/
Gameplay videos:
http://www.youtube.com/user/Juddgment#g/c/11C49B1F1602FBED
My Review:
http://www.gamefaqs.com/psp/977827-prinny-2-toukou-yuugi-akatsuki-no-pantsu/reviews/review-140812
Asagi Wars wallpapers:
http://prinny.jp/2/wallpaper/02_800x600.jpg
http://prinny.jp/2/wallpaper/02_1024x768.jpg
http://prinny.jp/2/wallpaper/02_1280x1024.jpg
Prinny Wallpapers:
http://prinny.jp/2/wallpaper/800x600.jpg
http://prinny.jp/2/wallpaper/1024x768.jpg
http://prinny.jp/2/wallpaper/1280x1024.jpg
Baby mode:
Asagi:
Potato fart:
Dark Sun:
Breakmode:
New Attack:
Prinny Cyclone:
Mega Hip Pound:
More Asagi Mode Pictures:
Prinny Laharl:
La Pucelle Hero Prinny DLC:
Priere:
Dessert shop?:
Awards: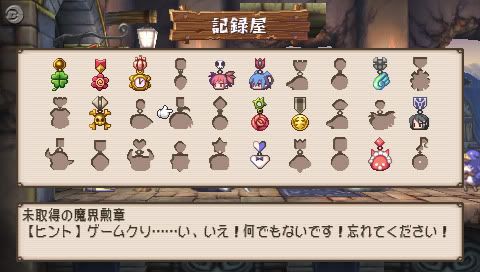 I'm REALLY waiting to get my hands on this game ^_^