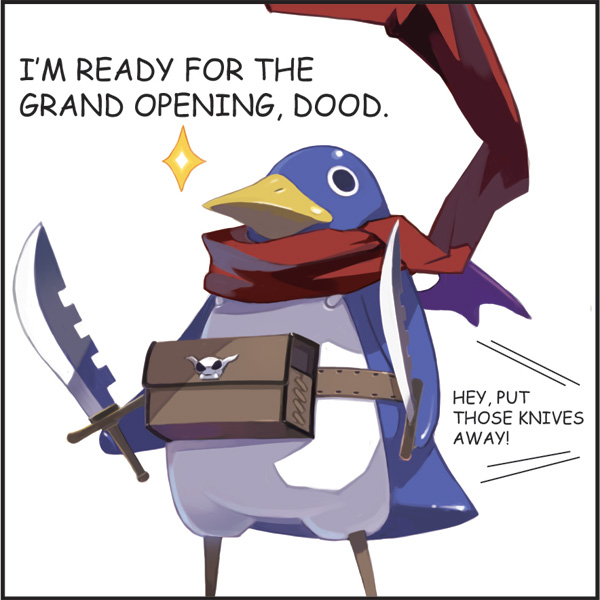 Hi everybody!

We're proud to announce that our official NISA Online Store has now launched! We've got some great new deals to celebrate the launch, as well!
Check out these awesome specials, dood!
To celebrate our new store, we've slashed the prices for:

Disgaea 3: Absence of Justice - $49.99
Disgaea DS - $29.99
Rhapsody: A Musical Adventure - $29.99
Atelier Annie: Alchemists of Sera Island - $29.99

all down to just $19.99!! Sweeeeeet, dood!

Information about the NIS America Online Store
We are beyond thankful for all the support everyone has given us on the RosenQueen web store. In order to better serve our fans, we have opened the NISA Online Store! Here are a few of the important changes:

• A new URL: http://store.nisamerica.com/.
• A new website, redesigned from the ground up to provide a more intuitive, yet functional, interface for our customers.
• New business practices aimed to protect our customers. We will no longer be charging our customers until their order has shipped from our warehouse. This even applies to preorders! The only exception will be Giclees, whose limited quantities and "on demand manufacturing" will require us to charge in advance.
• Our product information pages will include more information, pictures, links, and movies (when available) to help our customers make informed purchases.
• Customers will still receive 5 reward points for every dollar they spend on the new online store. Once a customer's point total has exceeded 500, they will automatically be e-mailed a $5 gift certificate for future purchases!

Also note that our customer support e-mail address has changed from support@merchantmonkeys.com to store@nisamerica.com.
Important Information for RosenQueen Customers!
Current RosenQueen Orders and RosenQueen Order History
All orders placed on RosenQueen, including preorders, will be fulfilled through the RosenQueen system. Now that the new Online Store has launched, the RosenQueen website will no longer accept new orders. However, customers will still be able to login and check their current orders and/or order history through the RosenQueen website. Once all RosenQueen orders are completed, we will be backing up our databases and completely shutting the website down. At that point, order history and associated inquiries can be requested through NISA Online Store Support.

RosenQueen User Migration
We have transferred as much of our registered customers' information as possible to the new system. Due to differences between the two systems, please note the following:

• Our new system uses e-mail addresses to login with, instead of usernames. If your e-mail address was incorrect on RosenQueen, you will need to re-register your account
• To protect your privacy, we have assigned new, randomly generated passwords instead of migrating old passwords from RosenQueen. Your new information has been e-mailed to the address on your RosenQueen account. We recommend changing this password at your earliest convenience.
• For security reasons, we will not be transferring any payment information, such as credit card numbers or PayPal account information.
• Your current RosenQueen Bonus Point balance will be converted into NISA Online Store Reward Points!

If your e-mail address on RosenQueen is correct and you do not receive your new account information my e-mail, please contact support!


"What's New at NISA?"

- You still have until June 30th to enter the Press Event 2010 raffle!
- Our servers will be down for maintenance Sunday, 6/27 from 1PM-4PM

---
Thank you for reading this issue of PRINNY BOMB! We hope you liked it.

Have an awesome week!

To unsubscribe from our mailing list, please click here.
© 2010 NIS America, Inc. All rights reserved.
© 2007-2010 RosenQueen Company All rights reserved.