Special Atelier Iris™ 2 Pre-order Deal! Vol.2
Hey everyone,
Just wanted to let you all know that the NIS America Online Store will begin taking pre-orders for Atelier Iris™ 2: The Azoth of Destiny on April 3, 2006. With your pre-order, you will receive a Bonus Soundtrack CD (while supplies last) featuring 22 songs from the game!
The Bonus Soundtrack CD will be available with pre-orders from the NIS America Online Store , EB Games, GameStop, and other fine retailers.
Please check with your local retailer for bonus material availability.
Supplies are limited.
Thanks everybody!
---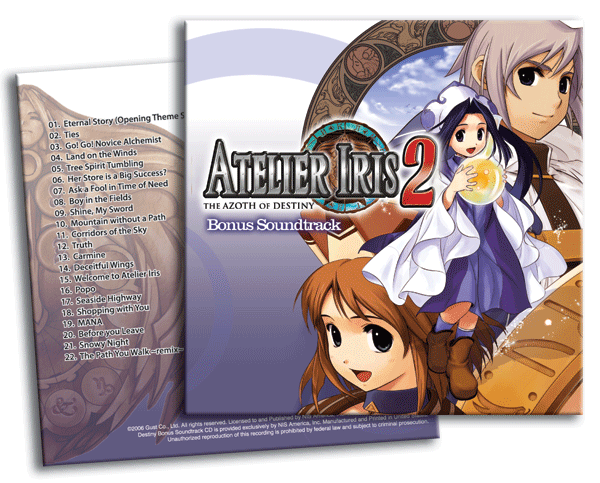 Get this Bonus Soundtrack CD free with your pre-order!
Supplies are limited
---
About NIS America, Inc.
NIS America, Inc. (NIS America) subsidiary of Nippon Ichi Software, Inc. of Japan (Nippon Ichi Software), established its North American operations on December 24, 2003. Based in Anaheim, California, NIS America, Inc. is a game software publisher that localizes, markets, and publishes Nippon Ichi Software titles among others.
Nippon Ichi Software was founded in 1994 in Gifu, Japan, as an entertainment software company. Since then Nippon Ichi Software has grown into an international company focused on creating innovative video game products.
NIS America is committed to marketing the most innovative and creative titles in the industry. We at NIS America will continue to work hard to bring exciting new titles to satisfy both our fans and new users.
For more Information: