Prinny™: Can I Really Be the Hero? Comic!! and
Prinny "_____, dood" Bottle Contest!
---
The Ultimate Hardcore Action Game!

Prinny: Can I Really Be the Hero?

Console: PSP
Release: Feb 17, 2009
Genre: Action
Rating: Teen


Click to see larger image.
---
Hello everyone!
Happy Friday! We're very excited to share a Prinny comic with you all today. The comic was created by the guys at Penny Arcade. And it's demonically hilarious! We also included a different exclusive comic page in the retail copy of Prinny. That one is also very funny, and very different from what we're showing you today. So, if you want to check out that comic, hurry to the RosenQueen store and preorder Prinny!
Well, before we start ranting about how awesome this Prinny page, we should just let you guys see it...
Here you go!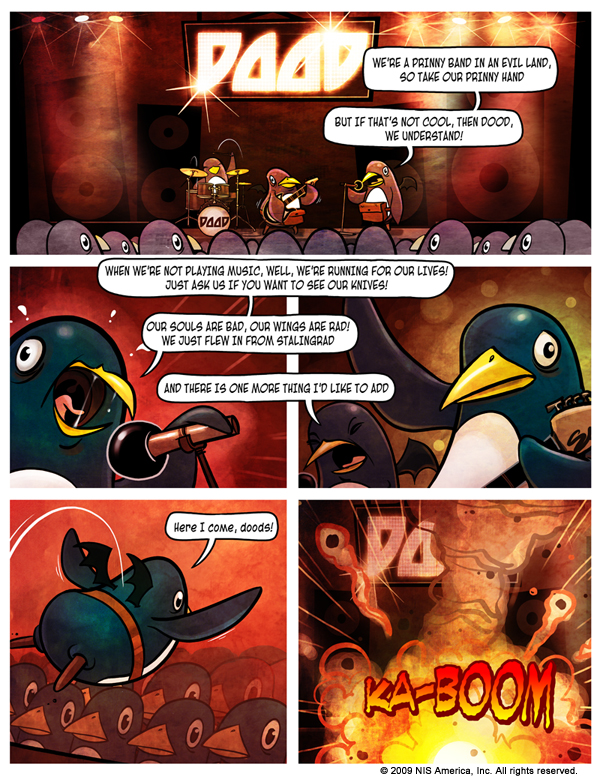 We hope you like the Prinny comic page as much as we do!
The Prinny game is coming out really soon, and to get you guys geared up for the "Ultimate Hardcore Action game", we'd like to hold a Prinny "____, dood" Bottle Contest.
We want you to fill this comic with creative, funny, crazy, outrageous lyrics. Submit your best line to us at contest@nisamerica.com by February 9th, 2009.
Please send your text submission as a separate text file (txt or doc). And make sure to number your lines 1-6 so we can all follow along!
Don't forget to include your full name and physical address with your submission! We'll accept just one submission per person. So, you better think well and send us the best line you've got! And don't leave a single line blank, dood!
---
We'll pick 10 NISA staff favorites, and these who are chosen will receive a Prinny Juice Bottle. It'll come in handy when you are playing "Prinny: Can I Really Be the Hero?" since we're sure you'll need something to drink when you're battling through the Netherworld trying to get all the ingredients for Etna's Ultra Desert!

So, get your brain rolling and come up with something clever!

*Click for larger images.
---
The Preorder for "Prinny: Can I Really Be the Hero?" is still going at RosenQueen. Don't let these cool Prinny goodies slip through your fingers!
---
---
This set comes with
- Premium box Prinny game
- Red Scarf Prinny
- Prinny PSP pouch
- Disgaea® Graphic Novel
Lastly, we'd like to thank those who entered Ar tonelico® 2 "Dream on Me" Body Pillow Contest! We've received a number of awesome entries, and winners have been contacted by e-mail. We'll share the submissions with you for the contest soon! Thank you for your support!!
---
We hope you enjoyed this issue of the NISA E-Newsletter!
Please let us know if there are any questions or concerns.
Have a great day!

Best regards,
New phone number
NIS America customer service : 714-708-3692
RosenQueen customer service: 714-540-1185
© 2009 NIS America, Inc. All Rights Reserved.