Nether Research Squad
The Nether Research Squad is a system in which a research squad is formed by gathering units that do not participate in battle, and instead are sent to other Netherworlds. If the squad is able to research and safely return to base from a Netherworld, you may gain items and prisoners as a result!
Choose a Netherworld to research. Each Netherworld has an entrance level and various stats.
Just pick the units you want to board the expedition ship and depart!
Research the Unknown Netherworld
There are times when you may find a new, unknown Netherworld during your expedition. There, you may encounter items you can obtain and even the Overlord of that Netherworld. Research all the Netherworlds and explore all of space!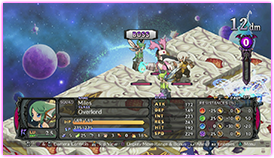 You can obtain a rare reward when you defeat an Overlord, allowing you to research that Netherworld much quicker!