Dark Assembly
At the Dark Assembly, you can strengthen units and equipment by suggesting bills.
Expanding Facility Equipment
Higher performance than the Equipment Shop and Item Shop at the base. Circulate high-quality goods. Power up your equipment and belongings!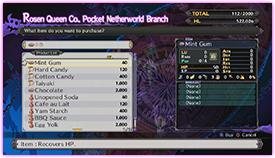 Give your Units a Career Change
Reincarnate your units to change their class. Since they will retain some of their former class's stats, you can cultivate a powerful unit!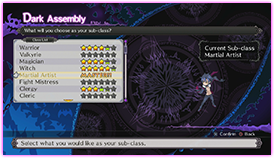 Acquire a Sub-Class
You can set a sub-class for main characters. Main characters will be able to learn class-specific Evilities and receive benefits to their stats.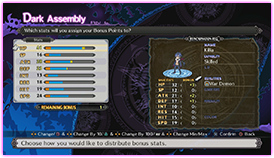 Change a Unit's Color
You can change the color of a unit. You can finely adjust the hue, contrast, and brightness, according to your preferences.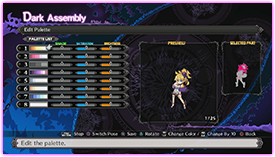 Proposals and the Dark Assembly
To implement a difficult proposal, you may have to get the approval of a number of Senators at the Dark Assembly.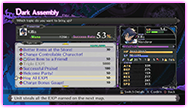 Select the proposal you would like to implement. Difficult ones will receive a lower approval rating.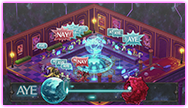 At the Dark Assembly, a vote of approval or disapproval will take place by the Senators.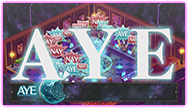 If the majority of votes are for your proposal, it will be approved! On the contrary, if more votes are against your proposal, it will be rejected.
Pay Up and Persuade by Force
When it is difficult to gather votes of approval at the Dark Assembly, you may select Pay Up or Persuade by Force, which allows you to use bribery and brute force to get your way. Entertain the Dark Assembly and gain approval for your proposal, no questions asked!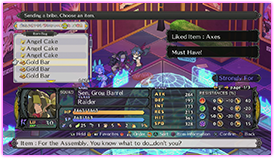 [Bribes] Senators may want different items. You should bring a number of items to the Dark Assembly!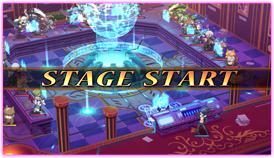 [Brute Force] After a proposal is rejected, you can use brute force to persuade the Dark Assembly. Turn the assembly floor into a battlefield!