Weapons
What Weapon Will You Choose!?
There are 8 different kinds of weapons that characters can equip! Fists, Swords, Spears, Bows, Guns, Axes, Staves, and one new type of weapon that is new to this series. Each of weapon type has its own unique properties. Humanoid characters can equip any type of weapon, but each character will only have a limited number of weapon types that they are good with. Equipping them with weapons they're good with will allow them to get more out of their weapon.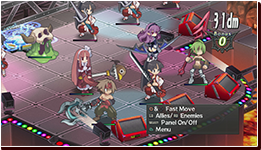 A New Way of Fighting Has Been Introduced to the Netherworld—With Books! Use Summon Spells Wisely!
Book The new weapon is the Book! Its unique style is using summoning attacks. Even the most normal looking books can become the strongest weapon on the battlefield! Out of its pages come monsters and spirits! For example, you can summon a salamander fire beast to deal massive damage! There are many types of books ranging from demon text books to magical manuscripts! Some books are worthy of being weapons, but some are just ridiculous to use as weapons. Just like Staves, Books can also be used as blunt weapons! Imagine getting hit by the corner! Yikes!
The More Use a Weapon, the More Skills You'll Learn With it!
Each character will get better at using weapons the more they use them. As your experience with a weapon (Weapon Mastery) increases, characters will learn more weapon-specific Special Skills. If that character is also good with that weapon (Weapon Aptitude), their Weapon Mastery will increase faster, thus they'll learn how to use that weapon to its full potential faster!